Does Anxiety Bother You?
Are you anxious about something? In our day to day life, we get stumbled by many roadblocks and life situations that make us anxious. Anxiety is the greatest disorder that the modern generation is facing. In our anxious moments, we try to take aid in earthly things. I too have done this many times and gone through a lot of confusion, you can read it here. But God our loving Father has kept the solution ready for us in His Word. The Holy Bible tells us about anxiety and how we can overcome it with God coming to our aid. Bible verses are always a proven solution for all your life's troubles. The Word of God is the medium through which God speaks to mankind, so we have his words for us in our difficult moments.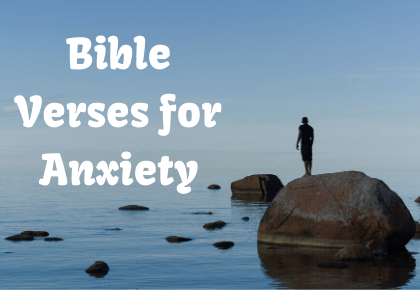 Bible Verses: Proven aid for Anxiety
I have compiled the top 8 bible verses that will help you in your anxiety. Bible verses are a promise from God and we need to accept them as promises with instructions and conditions. They are not magic but the words of Living God. In order to receive this promise, we need to believe in Him. So, friends, have faith and hope in the word of God. I did learn to trust him through difficult moments, please read it here. Read, meditate and repeat these verses with all your heart and faith. As you pray the verses given below please do share them with your friends and family. Also, please do read my article on boosting your faith. I would love to hear from you.
Bible Verses for Anxiety
These 8 bible verses tell us not to worry about anything but give it to God the Father. Thank him for the situations in your life. He is making you a masterpiece. Cast all your worries on him, he is your loving father and really cares for you. Believe that the Lord has called you by your name and you are his chosen one. You are precious to him. You are precious than any other thing on this earth. So just put your trust in the Lord and he will give you peace.
1) Philippians 4:6
Do not worry about anything, but in everything by prayer and supplication with thanksgiving let your requests be made known to God.
2) 1 Peter 5:7
Cast all your anxiety on him, because he cares for you.
3) Isaiah 61:1
The spirit of the Lord GOD is upon me, because the LORD has anointed me; he has sent me to bring good news to the oppressed, to bind up the brokenhearted, to proclaim liberty to the captives, and release to the prisoners;
4) 1 John 2:20
But you have been anointed by the Holy One, and all of you have knowledge.
5) Luke 12:22- 26
He said to his disciples, "Therefore I tell you, do not worry about your life, what you will eat, or about your body, what you will wear. For life is more than food, and the body more than clothing. Consider the ravens: they neither sow nor reap, they have neither storehouse nor barn, and yet God feeds them. Of how much more value are you than the birds! And can any of you by worrying add a single hour to your span of life? If then you are not able to do so small a thing as that, why do you worry about the rest?
6) Mathew 6:34
So do not worry about tomorrow, for tomorrow will bring worries of its own. Today's trouble is enough for today.
7) John 14:27
Peace I leave with you; my peace I give to you. I do not give to you as the world gives. Do not let your hearts be troubled, and do not let them be afraid.
8) Psalms 56:3-4
when I am afraid, I put my trust in you. In God, whose word I praise, in God I trust; I am not afraid; what can flesh do to me?
I hope this post has helped you. I would like to request you to help us reach many people by sharing this article. You can also subscribe to our Free Bible verses daily. Just follow this link and it will take you to my Whatsapp. If you want to read more about me or my group do it here "About Us". Thanks a ton for your support. Do stay connected to us on Facebook and Instagram.