Dance with God and He will let the Perfect Person Cut In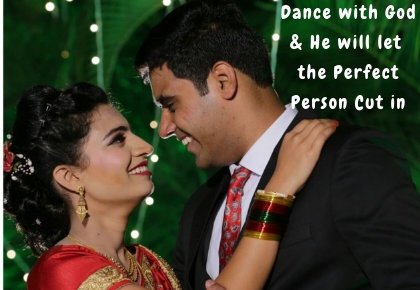 Marriage Preparation, my journey towards the vocation of marriage was with a lot of crossroads. These crossroads made me anxious and worried. My search for marriage started with fear and I expected a great Escape by finding my Life Partner… Somewhere lost in this unknown journey I started surfing through the internet. I came across a beautiful image with the caption "Dance with God and He will let the perfect man cut in". Even though it seemed funny at first but somehow it touched my heart. I realized my mistake of a journey without prayers. And I decided to dance with God …..Our dancing time was precious. My dance journey included attending Holy Mass, spending time before Blessed Sacrament, Novena, Personal Prayers, other prayers.
Marriage Preparation: Preparing Myself:
Now I was preparing for marriage and not just waiting for the right person. Preparing ourselves for marriage is very important in search of our life partner journey. Through it all, I got the courage to accept Marriage as beautiful Vocation from God. For me, marriage became a call for the glory of God. Thanks be to Jesus. I started writing my desires of life partner … Every time I visited Blessed Sacrament, I started noting points that I would like to have in my life partner. Praying over the written points gave me assurance of the existence of that person… Somewhere under the same sky ….and waiting for God's time to meet me.
Assurance of Life Partner:
I felt we were bonded together as I prayed daily and my focus slowly diverted towards having more of Christ… This beautiful dance made me so engrossed that I forgot I was waiting for someone. I found joy and peace in this journey. And there arrived the day to meet someone… all of a sudden …without expectations…without preparation. He was the first person I was gonna meet ….how do I talk there… I have never even seen him before nor have ever heard of him until the proposal of arranged marriage.
In His Time:
But as it is said …for every purpose under heaven there is a time… our time came…we met…we spoke. I asked him questions which I had prepared a long time ago with expected answers. I couldn't believe…Our God works wonders! The boy answered all as I expected. This was a sign of the greatest blessing and miracle. We started talking over the phone…our marriage got fixed… Later I realized another miracle from God…Jason (My husband) fulfilled 27 of my 30 points… I wonder how our God plans things! How many miracles He keeps in store for us !!!…
Now we are married (December 29, 2017). What a beautiful gift I received from God through my Husband. What I can say is ….do not be anxious in your search for life partner. Just Dance with God and He will let the perfect person Cut in.
Share Your Marriage Preparation Journey:
I would love to read your marriage preparation journey. Your dancing with God. Share your Dance Story with us and we will be happy to post it here. You will get our contact details here. Meanwhile, connect to us on Facebook, Pinterest, Instagram, Twitter